Monday, 25 March 2019 17:10
Influencers Platforms
Written by Super User
Top 13 Influencer Platforms for Instagram:
---

Neoreach has built an algorithm that mines the social web for data. Their database contains the social details of over 3 million influencers. The company targets large companies and enterprises.
You begin your influencer search with keywords, and then refine the results using a range of factors, including:
Conversation topic
Social channel
Social metrics
Audience demographics and psychographics
It provides you with a wealth of information, and you can sort influencers into groups or campaigns.
Neoreach also uses AI to recommend suitable influencers for your needs. The more you use Neoreach, the more accurate their recommendations will be.
Once you have found influencers, you can use Neoreach's campaign management tools to help your influencer marketing run more smoothly. It includes a centralized communications hub, to keep the entire influencer relationship process together.
Campaign reports are highly detailed, telling you virtually anything there is to know about campaign performance. Neoreach has developed their own measure of ROI – Influencer Media Value (IMV). You only need to plug your advertising spend into the model, and Neoreach will give you an accurate estimate of IMV for your future influencer campaigns.
Services Offered: Influencer Discovery, Campaign Management
---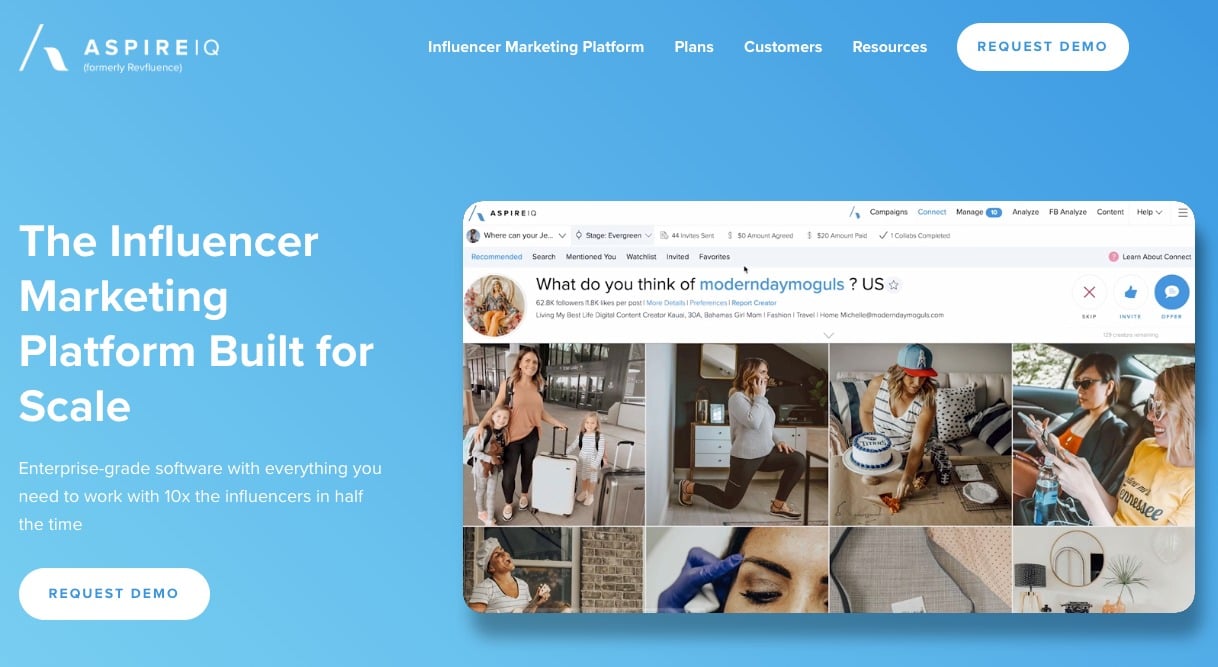 AspireIQ (formerly Revfluence) has the profiles of over 500,000 influencers in its discovery engine. Its algorithm crawls the web searching through social accounts to find people who meet its influencer criteria.
However, if an influencer wants to actively participate in campaigns through the AspireIQ platform, they first need to opt into the system.
AspireIQ provides multiple ways for brands to find influencers. You can search using relevant keywords, topics, or hashtags, and then filter accounts by whatever method you want. You can use the "Quickmatch" feature, which suggests influencers based on your preferences. Another way you can find influencers is to use AspireIQ's Watchlist feature, which will tell you which influencers have mentioned you or your competitors. You can even search by image – looking for influencers who have shared content similar to a particular picture.
AspireIQ covers much more than just influencer discovery, however. It has robust tools that can assist brands with:
Campaign creation
Campaign lifecycle management
Digital term sheets
Product tracking
Content collaboration
Trackable sales links
Creator performance spreadsheet
Campaign analytics
Payments
They have recently added a new feature that allows you to track Instagram Stories.
Services Offered: Influencer Discovery, Relationship Management, Campaign Management, Influencer Marketplace
---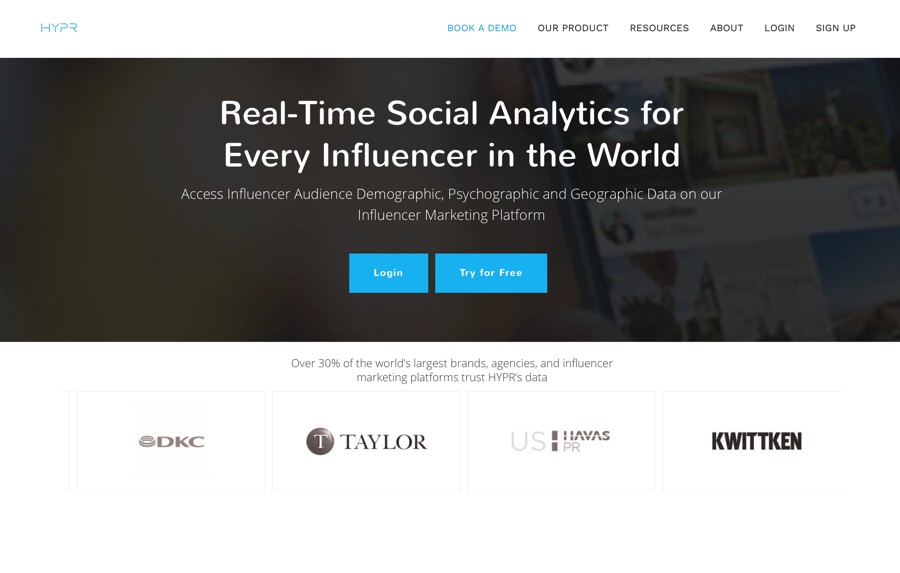 HYPR has built a massive database of more than 10 million influencers and makes a point of collecting as much demographic data about their followers as possible. They consider their search engine to be "talent agnostic," i.e., they don't limit their results to showing just a list of influencers who have agreed to work with them.
The search engine is the heart of HYPR. It is very much the Google of influencers. It uses a simple, but highly responsive interface, leading to a quick return of search results.
Although you could search for an influencer you know by name, the bulk of your searches will be by audience. HYPR believes the key to successful influencer marketing is matching up influencer with target audiences. You can search by audience interest and by a range of demographic factors, such as gender, ethnicity, and age group. You can then refine your searches further, by looking at factors such as influencer location and follower counts.
Once you have made your list, HYPR will present you with influencers who meet your criteria. Each influencer shows up on a little card, showing their photo and a summary of relevant details. If you believe somebody looks suitable, you can click on their card to see more information about their audience and social reach.
Services Offered: Influencer Discovery
---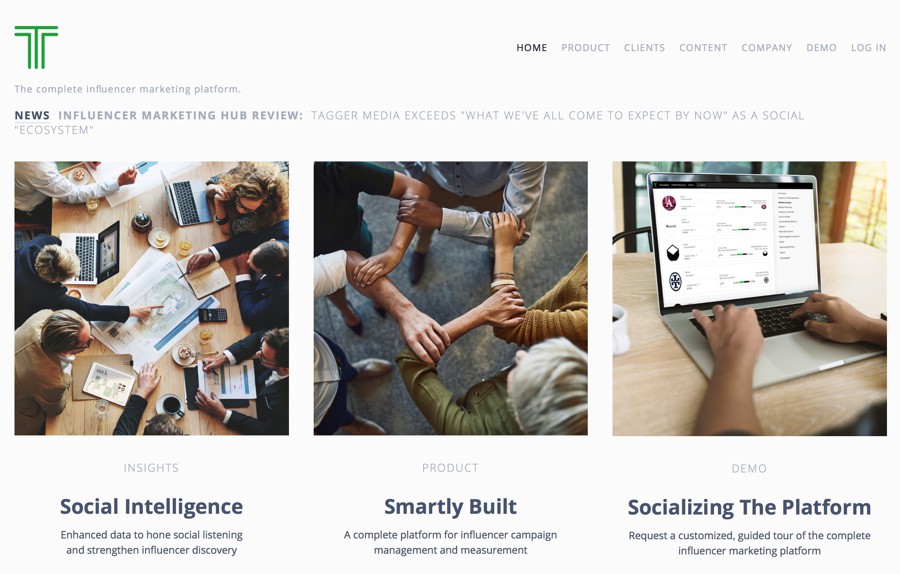 Tagger Media is an opt-in influencer marketplace with over 1 million influencers in its database. It tracks 8 billion social conversations that create over 28 million data points. You can search for influencers using 50 filters to help you refine the results.
Tagger Media offers much more than just an influencer search engine, however. It is a full influencer marketplace, designed to help large businesses find and work with its massive database of influencers.
It is an all-in-one platform that allows brands to:
Perform detailed searches on the database of users
Discover influencers to work with
Create campaigns, making them only available to invited influencers or alternatively to anybody
Manage selected influencers and their content submissions
Analyze post and influencer performance
Determine relevant ROI
Tagger Media places a significant emphasis on psychographics. It analyses what people are talking about, their interests and their affinities. This helps clients understand what content will drive engagement.
It also features a highly robust management dashboard, making it easy for firms to organize their influencer marketing efforts.
Services Offered: Influencer Discovery, Campaign Management, Influencer Marketplace, Third Party Analytics
---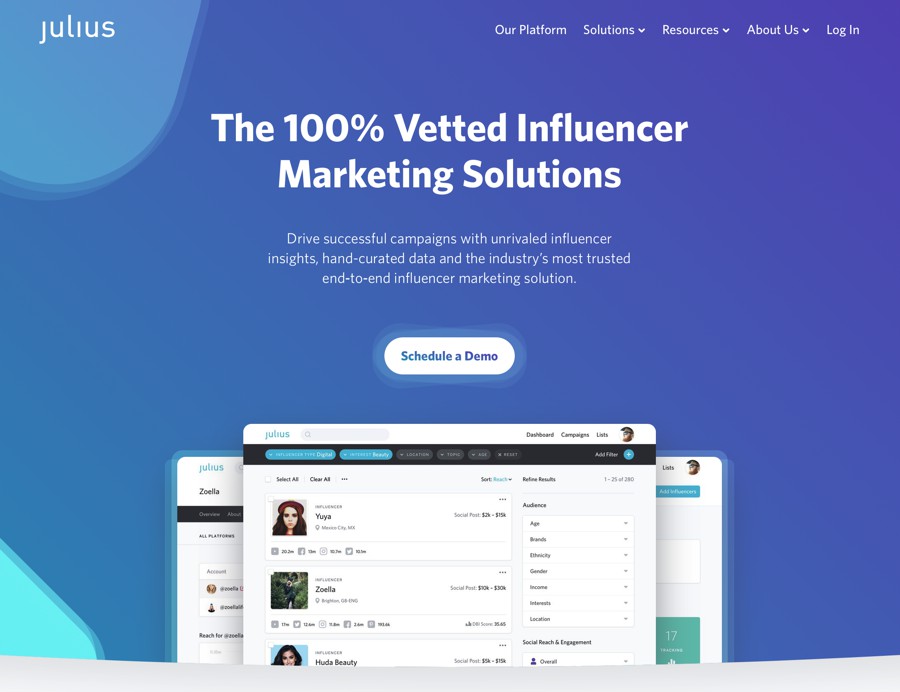 Julius has grown from being solely an influencer discovery engine into a fully-fledged self-service marketing suite.
It still features a powerful influencer search engine, however, with an array of data relating to its 120,000 fully vetted influencers. You can search for influencers using 50 different criteria to narrow your search. These cover both demographic and psychographic factors. Julius allows you to add any influencers you currently work with who aren't already in their system. The Julius staff vet these people and add their relevant data to the database.
Julius provides you with numerous ways to search for suitable influencers. It features a particularly easy-to-use interface. You can search by criteria relating to potential influencers, your target audience, or social reach and engagement. You can quickly create lists based on the criteria you are using.
Julius also features a robust set of campaign management tools, again designed In a clear, easy-to-use style. You can easily find out anything you want to know about your campaign with just a few button clicks.
The robust clean approach carries over to reporting as well. It provides clear easy-to-read visualizations of your influencers' performance on each campaign.
Services Offered: Influencer Discovery, Campaign Management, Third Party Analytics
---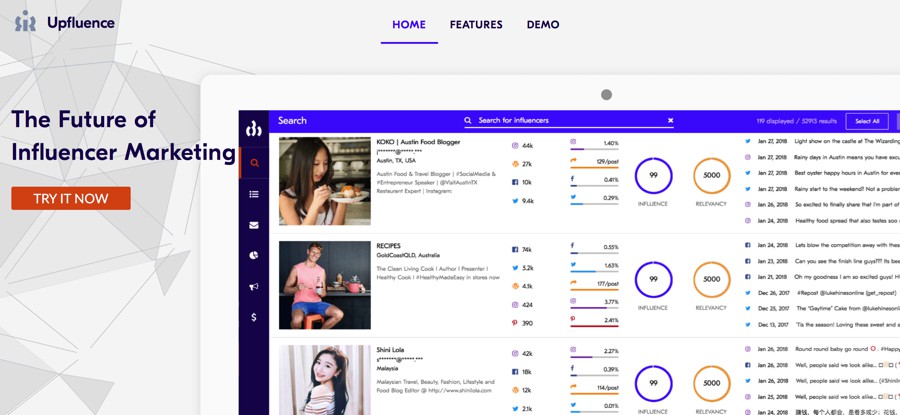 Upfluence has made significant changes to its offerings over the last year. It has narrowed the range of services it offers, concentrating on what it believes are its strengths.
The heart of Upfluence is its massive database containing nearly 1 million influencers. It indexes and updates social profiles in real time, analyzing every item of content for reach and engagement.
Brands can search Upfluence to find influencers using any combination of relevant keywords. They can then drill down and refine their selection of influencers. You can even weight your keywords, placing more emphasis on some than others. You can filter by audience data, including psychographic attributes like cultural interests and brand affinities.
Upfluence allows you to make lists of potential influencers meeting various criteria, which you can export into CSV files.
You can manage your influencer within Upfluence, including keeping a central repository for all email correspondence. The lifecycle management function keeps track of your progress with each influencer.
Services Offered: Influencer Discovery, Campaign Management
---

As its name indicates, Mavrck aims to take a different approach to influencer marketing. Most platforms will provide you with a list of people who are already popular on social media but don't necessarily know your product. Mavrck's approach is to take your existing customers and encourage them to promote your product online.
Mavrck takes your existing customer list and determines who has the most influence online.
You begin by setting up a white-labeled standalone website, or you add a plugin to your existing website. Customers log into your site using their Facebook profile. Mavrck finds all the public social data connected to each customer. It can then use its algorithm to determine each customer's social influence.
If Mavrck finds a customer to be sufficiently influential it automatically activates a suitable campaign for him or her.
Mavrck has a list of 20 'digital activities' different customer influencers can do, depending on their level of influence. Your customers receive rewards for completing each 'digital activity' you offer them.
You can use all of the content created by your micro-influencer customers to attract new customers – who may, in turn, become micro-influencers on behalf of your brand.
Mavrck provides you with a detailed dashboard showing a considerable amount of information about your campaigns.
Services Offered: Influencer Discovery, Relationship Management, Campaign Management, Influencer Marketplace, Third Party Analytics
---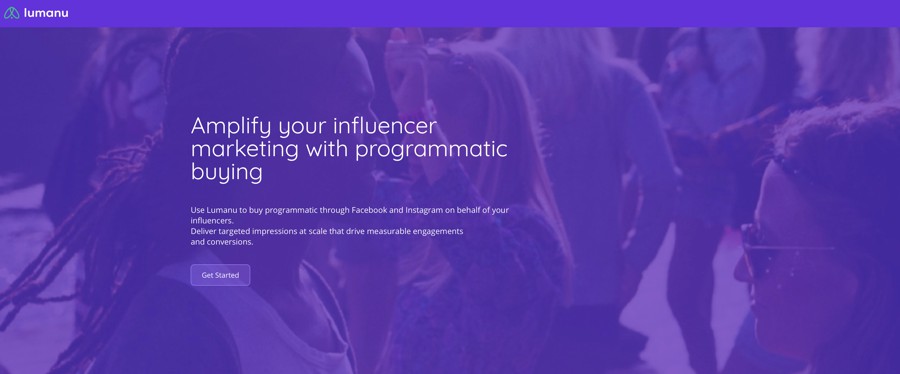 Lumanu takes a different approach from most of these platforms. They make no attempt to provide you with an influencer search engine for influencer discovery. Nor do they provide you with tools to manage your influencer campaign. Instead, Lumanu's focus is on delivering a dashboard where you can repurpose the content created by your influencers as Instagram and Facebook ads. It also acts as a front-end to help you deploy the ads you create.
You add your influencers to the Influencer Manager, either with a CSV file or one at a time. Usefully, Lumanu can cope with any errors in your data – it just skips any faulty record, rather than stopping. Lumanu then emails you, telling you about any entry that didn't work, so you can correct any incorrect data details.
Lumanu asks your influencers for permission to access their data, then they suck in all details related to posts influencers make on your behalf. This includes Instagram posts, Instagram Stories, and Facebook posts.
The second section of Lumanu is their Content Manager. Here you search through the influencer content you have just imported, using keywords, hashtags, mentions or other criteria.
When you find particular pieces of content you want to boost, you can set them up to be amplified as ads. You can carry out this whole process from within Lumanu, with no need to interact directly with Instagram or Facebook Ads. Lumanu adds a pixel to track the success of these boosted posts.
Services Offered: Influencer Content Amplification
---
9. Deep Social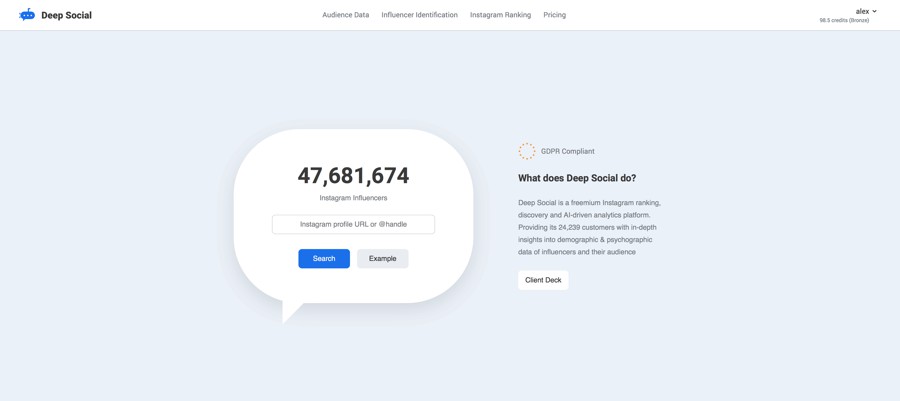 Deep Social has built an influencer marketplace with an immense quantity of statistics backing it up. They aimed to create the 'Google of Influencers.'
Where Deep Social is different from most platforms and search engines is that they rank influencers by relevance, rather than keywords.
Instagram has recently restricted the amount of information it provides through its API. Deep Social, however, gains much if its data from other sources. It uses AI-driven predictive analytics to analyze the data it collects and predicts future trends.
Deep Social was able to drag a vast amount of data from Instagram before it restricted its API – billions of data points on 43 million users. This quantity of data is sufficiently large for the AI to seed predictive analytics to compensate for the current lack of available data. Instagram still provides some data, though, and this is sufficient to keep the Deep Social AI updated and their predictions accurate.
The end result is that when you search Deep Social's database for potential influencers to help you meet a specific need, you will generally receive a highly relevant list of suggested people.
Services Offered: Influencer Discovery
---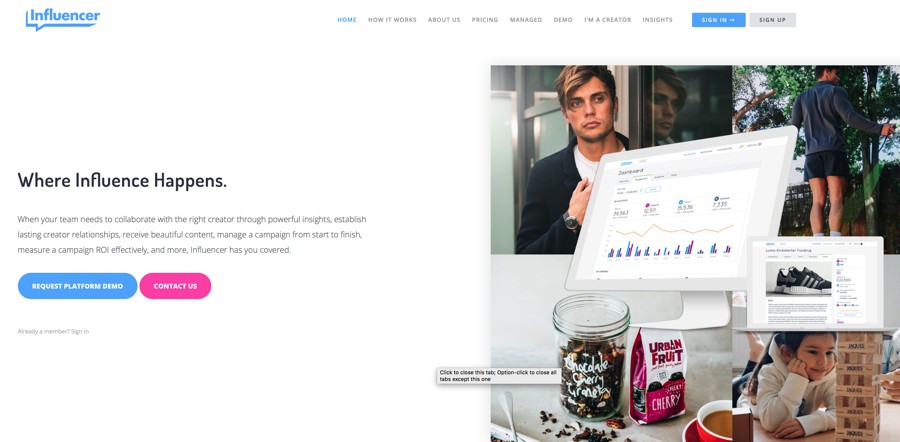 Influencer tags itself as being "run by creators, for creators." Indeed its Chief Marketing Officer (CMO) is Caspar Lee, who is renowned as a YouTube star. It's founder, Ben Jeffries, was only 18 when he started the business. It is very much a product of Generation Z.
With Influencer being run by influencers, it should be easy to distinguish genuine influencers. It is fussier about who it accepts onto their books. They are only interested in people with many real followers and a high level of engagement.
This means that Influencer has established a reputation as only working with talent who can easily communicate with their followers. This means that customers will only find about 1,000 influencers on their database – but they are all highly influential onliners.
Because Influencer has a more hands-on process than their more automated competitors, it does limit itself geographically. It is headquartered in the UK and currently focuses on influencers who have audiences based in Europe. Although Influencer is a platform, it offers many of the features of a boutique agency.
It includes all the expected management tools to assist with your campaigns.
Services Offered: Influencer Marketplace
---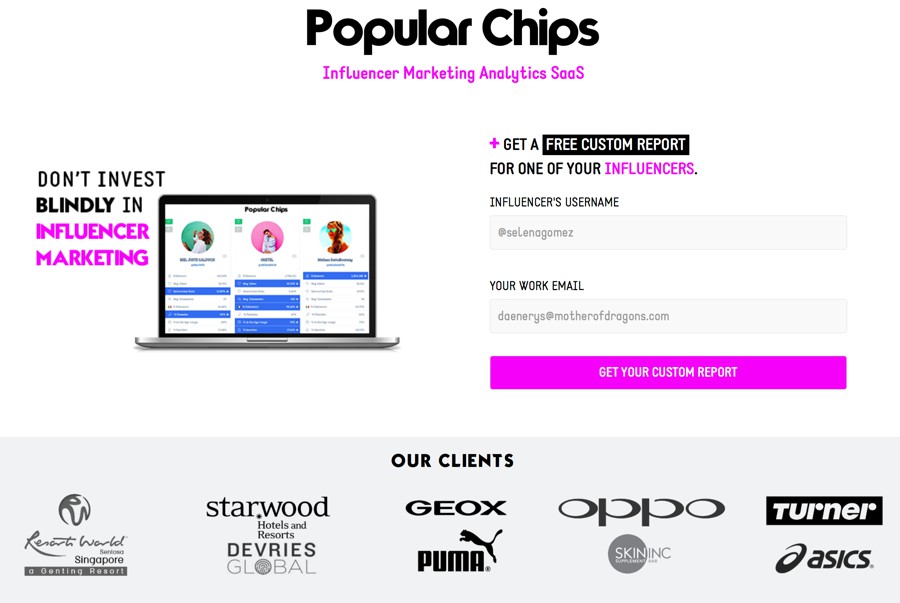 Popular Chips is very data focused.
As with most of these platforms, you can search for influencers on Popular Chips. However, the demographic search is far more precise than most of the competition. You can even set minimum percentages for your demographic criteria. You can establish multiple criteria in a granular way to describe your ideal influencers. Popular Chips will then find these influencers for you. You can easily compare influencers side-by-side to see how each performs according to your set criteria.
Popular Chips includes an intelligent version of sentiment analysis. It can help you distinguish genuine influencers from the trolls. It can even analyze emojis, taking into account different geographical usage and meaning.
Popular Chips also keeps detailed analytics for your influencers and the content they produce for you. You can determine your important KPIs at the start of a campaign, and Popular Chips then compares actual results with your projections. They also provide you with statistics comparing how an influencer performs in your campaign, compared to their normal sponsored posts.
Services Offered: Influencer Discovery, Third Party Analytics
---
In many ways, Lefty is an expanded version of an influencer marketplace. Its influencer discovery engine relies on an algorithm to find accounts with more than 3,500 followers – currently 5 million influencers. This data updates in real-time, constantly being categorized and indexed. The search function is clear, quick and responsive. It allows you to refine your search criteria with ease. Unlike most platforms, Lefty keeps track of Instagram Stories, as well as photo and video posts.
Lefty does an excellent job at telling you which influencers it believes are relevant to your campaign.
You can add preferred influencers to either new or existing campaigns. Lefty makes it easy to set up a campaign.
It provides a robust set of management tools to help you operate your campaigns. This includes a messaging system, an internal notes feature, and integrated payments.
Lefty also offers a seeding service with its higher plans. This helps get your products in front of influencers, who can then review your product or feature it in a post. With this seeding service, you can rely on Lefty staff to discover and contact influencers on your behalf.
Services Offered: Influencer Discovery, Relationship Management
---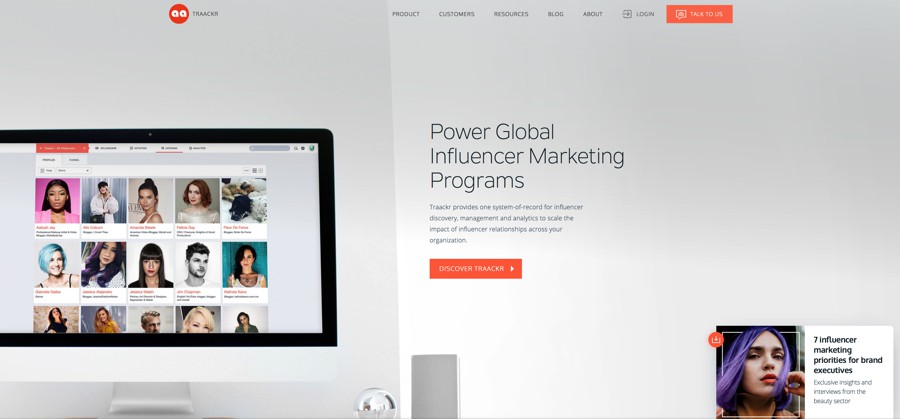 Traackr is one of the earliest influencer marketing tools – the first Traackr product was released in 2008. The company has changed its offerings as the industry developed and now specializes in influencer relationship management, built on top of an impressive online platform with an array of influencer management tools.
Although the platform focuses more on influencer relationship than influencer discovery, it does include a robust search engine. It provides numerous search and filter options to help brands find the ideal influencers for their campaigns. Traackr takes a hybrid approach to its influencer database – a combination of human involved in curation mixed with algorithms collecting data.
Traackr offers you many ways you can organize your selected influencers. One of these is to sort your influencers by relationship stage. This makes it easy to segment your influencers by how close you are.
Traackr allows you to customize the data you store about your influencers. It also records all communications you or members of your team have with them.
Traackr incorporates a social listening tool which allows you to track your influencer content in real time. You can filter this however you want, so you are not swamped by irrelevant details.
Another useful tool is Traackr's network visualization map. This shows you how influencers are connected with other people, both within and outside your network. This gives you a clear idea of who influences your influencers, and may give you further suggestions for building relationships.
Traackr provides a powerful set of campaign management tools, that makes running campaigns appear simple. You can even track how much your campaigns influence conversation.
1. Activate
ACTIVATE is a fully end-to-end influencer marketing platform, covering influencer discovery, program workflow, measurement, and analytics that supports cross-platform collaborations (Instagram, YouTube, Blog, Twitter, Facebook + more), with an opt-in network of 150,000+ vetted and authenticated influencers.
The ACTIVATE platform also allows you work with curated networks of creators ranging including 'vegan foodies', 'outdoor enthusiasts' , 'bohemian style' and more as well as pinpoint niche groups of influencers leveraging its geo-targeting and micro-survey capabilities. ACTIVATE also allows for access to their Studio team of influencer strategists that helps brands, media companies and agencies build out and execute their influencer initiatives.
Last year, the ACTIVATE platform enabled over 75,000 influencers to collaborate with brands, media companies and agencies — ranging from Reebok, Estee Lauder, Soylent, Tinder, FabFitFun, Brooks Brothers, Thrillist, Apartment Therapy, SHE Media, Ketchum PR, and more. ACTIVATE started out as Bloglovin', a platform to drive content discovery and promote incredible content creators.
Listen to my interview with ACTIVATE CEO, Kamiu Lee here.
2. Adly
Adly connects brands and agencies with influencers and celebrities, and in 2010 was one of the first – if not, the first – influencer platform to launch.
It works with influencers across all popular social platforms including YouTube, Facebook, Instagram, Pinterest, Twitter, LinkedIn and even Google+. It has worked with some of the world's most famous brands including Microsoft, Coca-Cola, Samsung, GE and many more.
3. AdvoWire
AdvoWire calls itself an "influencer community and content marketplace" and is owned by influencer marketing agency, HireInfluence.
Influencers can create their own page on the platform and showcase their social handles alongside their calculated influence score, audience demographics and skills.
If a brand is looking for influencers who can, for example, create engaging video content, they can search skill sets to find the appropriate people.
4. AspireIQ
AspireIQ (formerly Revfluence) tracks over 500,000 influencers on its database and uses machine learning to understand their demographics, content quality and audience.
Influencers can create their own profiles on the platform to showcase their work for potential brand partnerships. With a couple of button clicks, brands can reach out to influencers to start the process.
5. BlogDash
BlogDash is a blogger outreach platform that allows companies and brands to work with the 200,000 bloggers on its database.
It provides a premium blogger outreach service to clients guaranteeing them online PR and SEO benefits of at least 20 high-quality blog articles.
6. Blogfoster
Blogfoster calls itself the leading platform for influencer and blog marketing. It says it has over 35,000 influencers on its database has worked with 400 brands creating over 15,000 collaborations.
Blogfoster works primarily with bloggers, Instagrammers and YouTubers and provides a platform that connects them with brands alongside robust reporting analytics.
7. Boostinsider
https://www.stedavies.com/wp-content/uploads/2019/01/Boostinsider-1-750x552.jpg 750w, https://www.stedavies.com/wp-content/uploads/2019/01/Boostinsider-1-768x565.jpg 768w, https://www.stedavies.com/wp-content/uploads/2019/01/Boostinsider-1-561x413.jpg 561w, https://www.stedavies.com/wp-content/uploads/2019/01/Boostinsider-1-1122x825.jpg 1122w, https://www.stedavies.com/wp-content/uploads/2019/01/Boostinsider-1-364x268.jpg 364w, https://www.stedavies.com/wp-content/uploads/2019/01/Boostinsider-1-608x447.jpg 608w, https://www.stedavies.com/wp-content/uploads/2019/01/Boostinsider-1-758x558.jpg 758w, https://www.stedavies.com/wp-content/uploads/2019/01/Boostinsider-1-65x48.jpg 65w, https://www.stedavies.com/wp-content/uploads/2019/01/Boostinsider-1-131x96.jpg 131w, https://www.stedavies.com/wp-content/uploads/2019/01/Boostinsider-1.jpg 1600w" data-sizes="(max-width: 800px) 100vw, 800px" sizes="(max-width: 800px) 100vw, 800px" srcset="https://www.stedavies.com/wp-content/uploads/2019/01/Boostinsider-1-800x589.jpg 800w, /https://www.stedavies.com/wp-content/uploads/2019/01/Boostinsider-1-750x552.jpg 750w, https://www.stedavies.com/wp-content/uploads/2019/01/Boostinsider-1-768x565.jpg 768w, https://www.stedavies.com/wp-content/uploads/2019/01/Boostinsider-1-561x413.jpg 561w, https://www.stedavies.com/wp-content/uploads/2019/01/Boostinsider-1-1122x825.jpg 1122w, https://www.stedavies.com/wp-content/uploads/2019/01/Boostinsider-1-364x268.jpg 364w, https://www.stedavies.com/wp-content/uploads/2019/01/Boostinsider-1-608x447.jpg 608w, https://www.stedavies.com/wp-content/uploads/2019/01/Boostinsider-1-758x558.jpg 758w, https://www.stedavies.com/wp-content/uploads/2019/01/Boostinsider-1-65x48.jpg 65w, https://www.stedavies.com/wp-content/uploads/2019/01/Boostinsider-1-131x96.jpg 131w, https://www.stedavies.com/wp-content/uploads/2019/01/Boostinsider-1.jpg 1600w">
Boostinsider call itself an "influencer marketing intelligence platform" that covers the "full cycle insights" of an influencer across Youtube, Instagram, Facebook, Tumblr, and Twitter.
It says it has 350,000 of the most engaged influencers on social media and has worked with Fitea and Alibaba.
8. BrandBacker
BrandBacker helps you "build your brand through influencers" and says it has over 200,000 registered on its influencer marketing platform.
It helps brands collaborate with influencers via articles, videos, social campaigns, surveys, contests and live events.
Influencers sign up to the platform where they receive incoming opportunities to work with brands which they can apply for and once accepted create content for. Brands that have worked with the BrandBacker platform include Loreal, Evian and New Balance.
9. BrandSnob
BrandSnob is an Instagram influencer marketing platform that helps brands find and engage with influential Instagrammers.
It works by providing brands with an app to find relevant preselected influencers among its database of 10,000.
With offices in London, LA, Sydney and Melbourne, BrandSnob has worked with Tinder, Toms, ASOS and Boohoo among others.
10. BuzzStream
BuzzStream is an influencer research tool that allows you to find influencers based on your own search criteria. It will then look for contact information and social profiles and rank each one by how influential they are. For anyone who has ever done this manually will know that it's a tedious task that takes considerable time.
BuzzStream also provides a CRM type tools so you can keep track of each of the influencers you reach out to. It also has a handy Chrome extension that scrapes link content from a BuzzSumo search.
11. BuzzSumo
BuzzSumo's main offering is a tool that allows you to see what content has been shared the most in social media. Run a search with it related to whatever you're writing about and it will provide you with a list of similar articles that have been shared far and wide in social.
BuzzSumo also helps you identify the influential people who are linking to your competitors' content so you can reach out to them and ask for a link back to your content also.
12. BuzZoole
BuzZoole is an influencer marketing platform with almost 25,000 influencers on its database. It provides detailed influencer analysis to brands and agencies and has worked with some of the world's most well-known brands.
Tommy Hilfiger, Audi, Ford and Vodafone are a few of the brands that have used the BuzZoole platform.
13. CloutHQ
CloutHQ calls itself a "public influencer marketing database" that "streamlines outreach." Its website says it has over 18,000 influencers on its database, but it isn't clear on which platforms they focus on.
The influencer platform works on a subscription bases and people wanting to sign up to CloutHQ do so via their Chrome extension.
14. CREATION Pinpoint
CREATION Pinpoint is an influencer marketing platform that is specific to the healthcare marketing industry. It allows healthcare marketing and communications professionals to isolate and analyse social media conversations from over 500,000 healthcare professionals including doctors, nurses, and physicians.
15. Crowdly
Crowdly calls itself an "advocate management platform" because it allows brands to identify who their advocates are and provides guidance on the best way to engage with them. It also provides a way for brands to measure their impact when working with the 'advocates' on its platform.
Crowdly boasts working with brands including Swarovski and large PR agencies such as Edelman.
16. Expertvoice
ExpertVoice acquired influencer marketing platform ReadyPulse to provide a wider suite of services. It says it has 1 million influencers on its database.
It comes via a smartphone app where influencers can sign up, create their profile and promote themselves. Brands including Reebok and Skullcandy are users of the platform.
17. FameBit
YouTube owned FameBit says it is the premium marketplace for branded content. It is a data-driven influencer marketing platform that connects brands with influencers helping the former get their message out and the latter to make money.
FameBit's pricing model is simple. When it matches an influencer with a brand and a piece of content has been approved it takes a 10 percent from both parties which is a 20 percent fee per brand partnership agreement.
18. Find Your Influence
Find Your Influence is an influencer marketing platform that has over 100,000 creators on its database.
It says it has completed more than 10,000 campaigns for over 500 brands and driving 3 billion impressions across blogs, Facebook, Instagram, Twitter, YouTube, Vine and Pinterest. Find Your Influence has worked with a range of well-known brands including Delta, Kleenex, Nivea and Walmart.
19. Grapevine Logic
Grapevine Logic is an influencer marketing platform specific to YouTube. It connects brands and agencies with YouTube creators (or 'YouTubers' as they're known).
Grapevine Logic has its own data offering allowing clients to track their campaigns, buzz and conversions such as sign-ups and sales.
The platform acts as a marketplace by allowing brands or agencies to submit a creative brief to receive pitches from YouTubers. Once a deal is agreed, Grapevine Logic provides a data dashboard so clients can monitor their results.
20. GroupHigh
GroupHigh lets you find bloggers and other social media influencers, manage your relationships with them and helps measure your content's impact.
The GroupHigh website says it is tracking 15 million blogs, 1.25 million Twitter influencers, 200,000 Instagram influencers and 180,000 YouTube influencers. It ranks these on reach, social following and location.
It has worked with brands and agencies including Citrix, Sony, Mediacom and Havas.
21. Handbook
The Handbook is an influencer marketing platform that allows you to contact 93,000 influencers and celebrities worldwide.
The platform includes data on influencers and celebrities and categorises them by followers, growth trends and audience categories.
It also provides you with information on the types of brand deals influencers and celebrities have been or are involved to ensure there are no conflicts of interest.
22. Heepsy
Heepsy is a pay to play influencer search platform that allows you to search for influencers by topic, channels, number of followers and more.
Founded in Spain in 2016, Heepsy says it has worked with brands such as Ford, Red Bull and New Balance.
23. Hollyfy
Hollyfy calls itself a "brand integration platform" that connects entertainment influencers to brand marketers.
Influencers create their own page on the Hollyfy site and smartphone app. Here they provide brands with information on the type of content they create, their audience and the kind of work they're looking for.
Hollyfy says it uses predictive analytics, machine learning & algorithmic matching for effective branded entertainment and new media opportunities.
24. Hypr
New York City based Hypr was founded in 2013 and is an influencer marketing platform that tracks over 10 million influencers across every major social network.
Hypr offers brands and agencies in-depth marketing audience analytics. It says 30 percent of the world's largest brands and agencies trust its data.
Hyper is more an identification tool but influencers can apply to be included on the platform. It boasts some prestigious brands as clients including Pepsi, Microsoft and Time Inc, and agencies such as Wunderman and Havas.
25. Hypetap
Hypetap is an influencer marketing platform based out of Australia which calls itself a marketplace for brands, agencies, influencers and talent managers.
Each influencer on the Hypetap platform is "hand-picked" by-invitation-only which means their database of over around 3,000 is small in comparison to other influencer marketing platforms but the quality is high.
Hypetap has worked with brands such as Nestle, Disney, Uber and Nespresso to name a few.
26. iambassador
Iambassador is an influencer marketing platform specific to the travel industry. It works with travel brands and leading travel influencers from around the world.
While not specifically a platform itself, iambassador matches travel brands with travel influencers and also provides marketing services between the two.
27. indaHash
indaHash operates in 82 markets across the world focussing on Facebook, Instagram, YouTube and Twitter influencers. The website claims to have over 900,000 influencers on its database and have worked with the likes of Danone, Electrolux and KFC.
People who want to join the indaHash database do so via the smartphone app where brand campaigns are fed to them. Barriers to entry are low with indaHash requiring only a minimum of 300 followers to join the database.
28. Influence.co
Influence.co is a free and premium influencer marketing platform that helps influencers showcase themselves and connect with interested brands.
An influencer's page on the platform includes links to their social profiles (Twitter, Instagram, LinkedIn, YouTube, Snapchat etc), their recent Instagram photos, their engagement rate, the brands they've worked with and how much they charge.
29. Influencer One
Social media analytics and monitoring company, Talkwalker, launched Influencer One, an influencer marketing platform in November 2018. Influencer One provides a platform that connects marketing teams, influencers and campaigns in one place.
For now the tool is specific to Twitter but Talkwalker say they plan to role it out across other social platforms in the future.
30. Influencer.uk
Influencer.uk is a UK based (though internationally focussed) influencer marketing platform that focuses on quality of quantity.
It has a rigorous vetting process and before influencers are added to the platform, their follower trends, engagement metrics and quality of content are analysed to ensure that each one has not faked their influence (buying fake followers and likes on Instagram is very easy).
Influencer.uk also has robust analytics allowing brands to track the results of their influencer campaigns by engagement, audience and location.
31. Influential
Based out of Las Vegas, Nevada, Influential calls itself an "AI marketplace." The company utilises the computing power of IBM's artifical intelligence, Watson.
Influential says it has over 25,000 influencers on its database and has worked with BMW, Coca-Cola Company, Hyundai, Johnson & Johnson and more.
This is an interesting talk given by Influential CEO, Ryan Detert at The Next Web conference in 2017.
32. Ifluenz
Ifluenz is an influencer marketing platform specific to Instagram and is focused on micro-influencers. A micro-influencer is someone who doesn't have a huge audience but the people that do follow them are rabid fans.
People on Instagram with 5,000 or more followers can sign up to the Ifluenz platform.
Brands preselect the Instagram influencers they want to work with. The influencers then choose which brands (or products) they want to promote. Once the content has been made and posted, the influencer receives payment.
33. Influicity
Influicity calls itself an on-demand influencer marketing platform. It connects brands with influencers providing rich analytics on the influencers who have signed up to the platform.
An influencer ca create a profile where brands can analyse their reach, audience demographics and geographical location. All contracts, payments and compliance are settled through the Influicity platform.
34. InNetwork
InNetwork tells you to "say hello to the new social contract" and claims it's customers who are now in control of marketing.
The InNetwork model is more about engagement and less about follower counts and vanity metrics. The InNetwork platform will accept micro-influencers who have as little as 500 followers provided they are also engaged fans.
35. Insense
Insense is an influencer marketing platform with a difference.
It helps brands create Instagram story content at scale by connecting them with Instagram influencers. Using this content it integrates into Facebook ads manager so the content can be amplified via advertising.
Insense says the average time from brief to creative is just one week and has worked with the likes of McDonald's, Nestle and Microsoft.
36. IZEA
IZEA is an innovative influencer marketing platform which has recently launched a service called Augmented Sponsorship. This means brands can send 3D assets to influencers who use them to produce sponsored content. The platform uses Apple's ARKit technology to make its Augmented Sponsorship possible.
As well as being an influencer marketing platform, IZEA also has a creative team that can support brands in generating both ideas and content for influencers to use.
37. Jamballa
Jamballa is a blogger outreach platform which has over 8,000 bloggers registered to the site. It says, unlike other influencer platforms, it's on the side of the blogger and has designed its service so they receive only high-quality pitches from brands and agencies.
38. Julius
Julius is a data-driven influencer marketing platform with access to over 150,000 influencers all of which are personally vetted and hand-curated by the Julius team.
With over 50+ searchable data filters every post and influencer is searchable by thousands of interests and causes, locations and audience demographics, and also keywords and hashtags. Julius's reporting suite manages payments, deliverables, metrics and customisable data exports.
39. Keepface
Dubai based influencer marketing platform, Keepface, says it is the first of its kind based out of Caucasus and Central Asia.
It's not clear how the Keepface platform works or which social networks it focusses on but it has a client list of a number of well-known brands including Samsung, P&G, Pepsi and Uber.
40. Klear
With 500 million influencer profiles in over 60,000 categories and five years worth of historical data, Klear is one of the most comprehensive influencer marketing platforms around.
Klear tracks influencers around the world and on platforms such as Instagram and works with brands like Vist Britain and Nike.
41. LEADERS
Established in 2009, LEADERS calls itself a "revolutionary technology-driven influencer marketing platform and agency." It was founded in Israel and has offices in the US and Europe.
LEADERS' influencer platform uses patented pending technology though it's not clear which social platforms its database caters to.
42. Lefty
Lefty is part influencer marketing platform and part creative agency. They work with brand and marketing agencies to engage with the five million influencers they have in their database.
Lefty does all the legwork including creating the brief and arranging the contractual agreements and they have worked with the likes of Uber, Airbnb, Hilton and Absolut to name a few.
43. Lissted
Lissted is an influencer marketing platform specific to Twitter. Its algorithm looks at relationships between Twitter profiles to determine influence instead of vanity metrics such as number of followers.
This means that Lissted can identify real-world influence as opposed to just online (or fake) influence. A Twitter profile may not have a lot of followers but it may be followed by influential accounts which is a good signal of real-world influence.
44. Markerly
Markerly is an influencer marketing platform that covers all large social networks including Facebook, Instagram, Pinterest, Twitter, Snapchat and blogs.
Influencers apply through the Markerly platform where they are vetted for quality of content, engagement and reach. If successful, they'll receive relevant opportunities and pitches from brands and agencies.
45. Mavrck
Mavrck calls itself an "all-in-one influencer marketing platform" which allows brands to "discover and recruit" influencers based on specific criteria.
It's approach to influencer marketing is to have an always-on activation and engagement model allowing brands to accumulate their 'return-on-influence.'
Mavrick has worked with PG, eBay, Gillette, Nike and many other global brands.
46. NinjaOutreach
NinjaOutreach calls itself an influencer and blogger outreach software CRM. It has over 25 million influencers from around the world and covering numerous subjects on its database.
With its built-in CRM tool, NinjaOutreach allows you to keep track of all the influencers you're engaging with and provides the ability to add your own too.
47. NeoReach
NeoReach is a "self-service" influencer marketing platform. It includes customisable search features, workflow automation, tracking and reporting, allowing brands and agencies to run a campaign directly through the platform.
It has worked with brands including Amazon, Airbnb, Fox and the New York Times, and includes a pricing structure to fit one-man bands to large multinationals.
48. Niche
Niche is a community of content creators which was acquired by Twitter in 2015 helps content creators monetise their work with leading brands.
Although owned by Twitter, Niche.co is not specific to the Twitter platform and includes creators from around the world across multiple subject areas and on multiple platforms.
49. Onalytica
Onalytica specialises in providing "influencer relationship management software" to help brands and agencies scale one-on-one relationships with influencers.
The UK company has a global database of 500,000 influencers and provides software and data to map the most relevant ones, listen to their conversations and engage with them in the most appropriate way.
50. Open Influence
Open Influence (formerly InstaBrand) is an influencer marketing platform that currently tracks 300,000 influencers. It uses proprietary "artificial intelligence" called Iris which analyses hundreds of millions of data points to match the right influencers with the right brands.
The company also provides creative services allowing brands to have their influencer outreach efforts done by Open Influence's expert in-house team.
51. Peg
Peg is a YouTube influencer marketing platform that currently works with 1,500+ companies across 169 countries.
It uses powerful data analytics software that matches the most relevant YouTubers with the right brands. It does this by allowing brands to learn if the YouTuber has referenced the brand in previous videos.
The Peg platform includes some of the most popular YouTubers and works with managers and agents to connect the best talent with the world's best brands.
52. Pitchbox
Pitchbox positions itself as an influencer outreach platform for SEO teams. It allows you to identify relevant bloggers and pitch to them directly from the platform in the hope they provide a link back to your site.
It has customisable outreach templates you can tailor to your needs and allows you to send thousands of outreach emails depending on the pricing level you go for.
53. Popular Pays
Popular Pays says it connects brands with stories to tell with content creators that want to help them tell it.
It claims to have the largest creator network with a combined follower count of 4.34 billion (though there will be a lot of double counting here) and has worked with brands including McDonald's, Nike, Starbucks, Banana Republic, Amazon, Google and many more.
54. Shoutcart
Shoutcart calls itself a marketplace to buy and sell Instagram influencer shoutouts. Want an influencer to mention your brand or product on Instagram? You can do it directly from the platform.
It works by allowing you to choose influencers from the Shoutcart database. Prices vary depending on the size and reach of the influencer's platform
Once you've paid upload your image or video along with the caption, your Instagram name and the time and day you want them to publish them.
55. Shopping Links
Shopping Links is an Instagram influencer platform that works by allowing brands to post briefs based on their requirements and where influencers can respond.
It works with 14,000 influencers across 100 countries.
56. Sideqik
Sideqik is a data-driven influencer marketing platform which provides "world class" data and insights to brands. Making the identification of relevant influencers an easy and seamless experience.
It provides audience demographics, advanced profile analytics and additional reporting for influencer campaigns run through the platform.
Sideqik has worked with brands including Logitech, Coca-Cola and CBS Interactive.
57. SociaBuzz
SociaBuzz is an Indonesian based influencer marketing platform specific to the Indonesia market.
Brands outline what they're looking for and are matched with relevant influencers who will, in turn, provide quotes on how much they require to work on the brand's brief.
Once the brand chooses the influencer(s), they can correspond with each other on the platform to finalise the agreement.
58. Socialbakers
Socialbakers has been providing social media analytics for some years and has recently developed its own influencer marketing platform.
You can use it to find and research Instagram influencers, based on their location and audience, as well as the type of influencer they are (based on interests).
Sociallbakers offer a basic free and advanced paid service.
59. Socialix
Socialix is a hybrid influencer marketing platform and agency which runs "end-to-end" solutions for running effective influencer marketing campaigns.
Influencer profiles on the Socialix platform track 20 data point to allow brands to understand their metrics and and interests for relevancy.
Socialix has worked with brands including Loreal, Polaroid, KLM and Hallmark to name a few.
60. Speakr
Speakr says it has been the number one influencer marketing platform for Fortune 500 companies since 2010. It has worked with the likes of Sony, Warner Brothers, Fox, Samsung, Disney, Kia and more.
Rather than tracking hundreds of thousands or even millions of influencers, Speakr instead takes a quality over quantity approach. It has close relationships with 37,000 influencers and claims they are the most influential creators online today.
61. SushiVid
SushiVid is a Southeast Asia based influencer marketing platform specific to the Asian market. It says it is the first of its kind in the region.
It works by allowing influencers to browse campaigns on the site where they can submit a proposal on the ones that they find most interesting or relevant.
62. TapInfluence
Like Speakr, TapInfluence doesn't have hundreds of thousands of influencers in its database but instead has 50,000 all of whom have opted into its database.
Influencers create their own profile on the platform and can set the type of work they're interested in along with their rates. The platform calculates their total reach, cost per engagement, audience interests and other useful metrics.
63. Traackr
Traackr is an influencer marketing platform that does, what it calls, "Influencer Relationship Management" (IRM). This allows brands to manage relationships with influencers at scale.
The Traackr platform not only analyses influencers but also the people influencing the influencers. Using the service you can receive influencer recommendations by uploading your current list and also discover new ones by topic, location, social network and other demographics.
64. Tribe
Tribe says it is a self-serve influencer marketing marketplace which connects brands with micro-influencers. Tribe's differentiation from most other platforms is it focuses specifically on micro-influencers – every-day citizens who have built a following around a particular passion or expertise.
They've created 2,800 brand campaigns with over 15,000 influencers generating over 100,000 pieces of content. Brands that have used the Tribe platform include Marvel, Spotify, Domino's, Unilever and more.
65. The Influence Room
The Influence Room is an influencer marketing platform where "brands, agencies, agents and influencers meet for mutually beneficial partnerships."
The platform covers all social networks including Instagram, Facebook, YouTube, Pinterest, blogs and even Twitch and TikTok.
The company says it has reversed the current influencer platform model as it first sources the natural advocates of and matches them together in a mutually beneficial way.
It says 90% of the influencer and brand partnerships delivered via The Influence Room involve no money changing hands due to the unique way in which a brand's most organic advocates approach them; not the other way round.
66. The Cirqle
The Cirqle is an exclusive network of influencers with just 9,000 on its database. Although a small number in comparison to other platforms, The Cirqle prides itself on highly creative and quality campaigns.
The company has worked with brands including Samsung, Belstaff, Oliver Sweeney and Made.com.
67. Upfluence
Upfluence is another hybrid influencer marketing platform that also provides creative services to brands and agencies.
Its identification software allows you to find influencers by social network, geography, language, topics and so on. It allows brands and agencies to create influencer lists and bulk contact them at scale.
68. Webfluential
Webfluential is an influencer marketing platform that tracks influencers across Instagram, Facebook, Twitter, Snapchat, YouTube, blogs and LinkedIn.
Influencers can build their "media kit" on the platform to showcase their profiles, reach, content and more. Both brands and influencers can refine briefs and agree campaigns together in Webfluential's collaboration room built into the platform.
20 Best Influencer Marketing Platforms to Drive More Traffic
The business marketing and promotional strategies keep changing for every business but one strategy that works for all is word of mouth influencing.
When you hear from a legend or industry professionals or your friends and acquaintances about the goodness of a certain product, your heart starts believing it and either you purchase or at least consider purchasing that specific product or brand. This is what influencer marketing is and there are several influencer marketing platforms.
If you are planning to step into this space, join the influencer marketing platforms to ensure business gains more profit. Here are 20 best influencer marketing platforms that can take your business and products to the next level.
20 Best Influencer Marketing Platforms
Famebit started out as the YouTube influencer agency with primary focus on YouTube but have expanded its horizon to other social networks as well. It has a reach of about 1.9 billion people with 33,992 creators in the network. Till date, 7003 brands have used Famebit as its influencer marketing agency.
Price: Famebit has simple transparent pricing plans with free sign up and 10% service fees.
Revfluence is a self-service platform that helps the brands to partner with the content creators. It is a balanced field, especially for the small agencies and companies. Revfluence helps in analyzing over half a million influencers on the basis of their audience, type of traffic, demographics, and content.
It helps to find the right set of people and that is the reason which makes Revfluence a desired small influencer marketing agency. Apart from an easy interface and comprehensive database, Revfluence's algorithm works a step ahead to match the brands with the most relevant content creators.
The collaboration process is made easy with the Creator Collaboration Toolkit and it also tracks engagement and reaches of the audiences.
Price: This software has 3 types of paid pricing basic, pro, and enterprise plans.
Buzzstream influencer marketing agency systematically ranks influencers according to their priority and influencing strength by scraping the influencer's social media profiles and contact information. It helps to track the outreach and also has a Google Chrome extension.
You may try the software under the trial period and take a tour of its features. Buzzstream is one of the best tools for building the relationship.
Price: It has 3 plans Starter, Group, and Professional that can be tried free and then once the trial period is over, it becomes chargeable. Only the custom plan has no trial period.
Searching for free influencer marketing platforms is quite a difficult task but Heepsy is an exception. It offers a free option and lets you search using keywords in the bios of users. Although the free option is good, the advanced paid plans are more effective and useful.
By creating filters in Heepsy, you get more refined search results. For instance, you can get all the influencers in a particular city with followers between 5000 to 100000.
Price: Heepsy is a special Instagram influencer platform that offers starter plan at $29/month, plus plan at $49/month, and pro plan at $99/month.
Julius offers over 50 filters for the search to segment the influencers and make it easy for the brands to search for influencers. The best part is Julius curates over one million influencer data points to find the best influencers for a successful campaign.
Price: Julius is a paid influencer marketing agency.
Hire Influence offers high-quality creative support to strengthen the reputation of the brands. In order to transform your vision into digital content, the campaigns of Hire Influence taps into the skills and creativity of the Influencer to produce some of the best user-generated content that can keep your audiences engaged.
Price: It is a paid influencer marketing agency uniting brands and their digital viewers across the globe.
The Hypetap is a curated influencer marketing marketplace for influencers, brands, talent managers, and agencies. With around 1240 influencers, the Hypetap reach of followers exceeds 136 million. It has one of the best technology funnels enabling both the brands and the content creators to create effective campaigns.
Price: Hypetap offers curated influencers for a high-level engagement with monthly $50 service fee.
Another influencer marketing agency connecting the brands to the influencers, NeoReach uses a special algorithm that connects to your web page to track the indexes and data through your platform. It has helped NeoReach in finding over 3,000,000 influencers. Targeted for medium to small companies, NeoReach has a customized annual subscription charge between $50K to $500K for the clients.
Price: You can get started for free with limited features.
A strong software that allows brands to search for the most specific influencers matching their requirements by filtering. You can search influencers covering from YouTube, Twitter, Fackbook to Insta. They are easy to be organized by creating bookmarks and lists.
Price: Scrunch offers free plans for the small companies. It also has pro plan at $99/month and power plan at $299/month, respectively.
Traackr focuses on brands earning lasting influence apart from offering deep analytics and huge influencers network. It listens to the influencers, allows brand engagement with the influencers and their viewers, building a trust and familiarity between them.
Price: It is a paid influencer marketing platform.
The YouTube influencer agency, Grapevine Logic builds a bridge between agencies and brands with the YouTube content creators. It is a marketplace that lets the YouTubers submit a pitch to team up with the agencies and brands. The clients can monitor the results from the data dashboard provided by Grapevine Logic.
Price: A service fee is charged and is a paid platform.
The search function of TapInfluence allows you to find the influencers according to your interests and demographics. It also lets you find the influencer's performance data history and approximated per engagement cost.
Price: TapInfluence is a paid influencer marketing agency that allows influencer outreach, influencer search, campaign management, and analytics.
With Open Influence, the brands may track the return on investment from the influencers using the proprietary technology. The influencers are selectively chosen for being a part of the Open Influence influencer marketing platform.
Price: There are paid service plans in the Open Influence.
The brand marketers are connected to the entertainment influencers through the Hollyfy platform. This is one of the influencer marketing platforms that uses machine learning, predictive analytics, and algorithmic matching to create opportunities for new media and effective brand entertainment.
Price: Hollyfy is a paid brand integration platform that also offers a free trial period.
The Influencer is a UK based influencer marketing agency that is dedicated to producing quality more than quantity. Prior to adding any influencers, their content, engagement metrics, and followers trend are all evaluated in order to avoid any fake likes and followings. It has robust analytics for tracking influencer's campaigns.
Price: It offers both paid and free brand plans.
The recent launch of IZEA is the Augmented Sponsorship service. Through this influencer marketing agency, the 3D assets can be sent to the influencers for producing sponsored content.
Price: It has both paid and free trial option and consist of a team of creative professionals to help the brands with the content and ideas.
Upfluence consist of 2 products. The first one is Reachr, where the brands search for the influencers to create content The second one is the Publishr platform where the companies can go beyond the content marketing strategies and explore the native advertising world.
Price: It is a paid influencer marketing agency.
From discovering top influencers, celebrities, and micro-influencers to managing relationship and tracking and monitoring key metrics, CreatorIQ is one of the best influencer marketing platforms in the recent times. It helps the advanced companies in learning, managing, and endorsing brand sponsorship through an enterprise system of record.
Price: CreatorIQ is a paid influencer marketing platform.
The Mavrck influencer marketing agency is one of its kind offering workflow automation, end to end relationship, advocacy referral, integrated influencer measurement, and loyalty marketing programs. Change your brand perception, drive signups, increase viewability, and generate revenue with Mavrck.
Price: It is a paid platform.
For genuine affiliation of your brand and for connecting with real people, Markerly influencer marketing agency offers a great platform. Use Markerly's CRM influencer tools and campaign management for creating your own marketing network while the influencer marketing solution assist you in recognizing and enlisting the correct influencers.
Price: Markerly is a paid influencer marketing agency.
Conclusion
The above influencer marketing platforms are the great tools and also an essential for every company's success. It is reliable and also a popular form of marketing. Why don't you pick up one platforom to increase your traffic now?
If you want to edit social media video, Filmora is a powerful tool that you can't ignore.